Cement Production Rises As Construction Thrives in Kenya - kenyadetails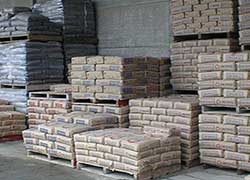 Production of cement, a key construction material, surged past half a million tonnes last July as 11-month tally surpassed full-year figures for the previous two years, latest data show. A total of 500,428 tons were manufactured in the month, pushing total production by end of November to 5.21 million tons. This is far higher than the 5.06 million tons churned out in the whole of 2013 and 4.64 million in 2012.
 The 11-month total is 12.3 percent higher than the 4.64 million tons produced over a similar period in the previous year, and 21.7 percent more than in 2012. Production has increased to match fast-growing, consumption of the commodity, which is being propelled by huge infrastructure projects countrywide and real estate development. Consumption, though still lower than production, is rising steadily and remained above the 400,000-tonne mark for seven months in a row to September.
Total consumption in the nine months amounted to 3.69 million tons, with a spike registered in May at 460,115 tons, a record high. Consumption in the period was nearly a fifth higher than a similar period in 2013 - 19.4 percent above the 3.09 million tons - and was 28.1 percent higher than the first nine months of 2012. Production has increased amid new entrants into the market and capacity expansion by existing manufacturers. Cement makers in the country include state-run East African Portland cement, Athi River Mining, Bamburi Cement, National Cement, Mombasa Cement and Savannah Cement.
Increased production has stabilized prices over the past five years, with the commodity retailing at between Sh600 and Sh750 for the 50-kilogramme bag.
The bulk of cement consumed in real estate if mainly in Nairobi, Kiambu, Kajiado and Machakos countries where construction of office blocks, retail space, homes and warehouses has increased significantly. In Nairobi, the total value of residential and non-residential building plans approved by the county's department of planning compliance increased by 1.2 per cent in the nine months to end of September.
The city-county approved plans worth Sh158.82 billion, slightly up from Sh157 billion in a similar period in 2013. The slowdown was largely attributed to a decline in the value of non-residential building plans - for offices, retail space and warehouses - in the period, which was down 4.8 percent to Sh67.74 billion from Sh71.16 billion. Residential plans approved jumped by 6.1 per cent to Sh91.08 billion compared to Sh85.84 billion in a similar period last year, indicating home developers will be breaking ground for more units this year.
The decline in the value of non-residential building plans could indicate investors have taken cue from various reports warning of an impending oversupply of office space in key business nodes in Nairobi such as Upper Hill, Central Business District and West lands.